Adam of Usk's chronicle is unconventional. Like the original Adam, he had no master - no one to please, his thoughts were his own. Subversive and critical, Adam knew what the big issue of his time was; legitimacy - of the church, and of the state.
Originally translated by sir E.M. Thompson, Adam's text has been reformatted and modernised to improve accessibility. This edition comes complete with a full set of supporting essays on associated subjects such as the Lancastrian Myth, the Percy Problem, the Princess and the Peace, the central role of John of Gaunt, the Thomas Haxey affair, and many others.
Adam of Usk found himself on the right side of history when Richard II was deposed but Fortune withdrew her favour thereafter and he was obliged to leave England for Rome before eventually returning, his transgressions forgiven, to rebuild his career as a lawyer.
Owing his advancement to his own intellectual skills, along with a measure of patronage, he wrote his chronicle for an unknown future audience that he expected to be a mirror of himself; an audience that shared his culture and understood the methods and choices he used in structuring his narrative; an audience able to see beyond the superficial orthodoxies of the text and understand its subversive message.
Adam is not secretive, but there is an editorial process at work, and we can be sure he has thought carefully about his chronicle's composition. Anything written about Richard II was permitted, providing it was critical, but not so about Henry IV, or indeed Henry V, and our writer is very aware of the possible consequences of going too far. Details which we might like to know about that he thinks irrelevant, or too compromising, do not appear, but what he retains deliberately undermines the authorised Lancastrian history of his time and, as is proper with a memoir like this, he ends with a warning.
The layout has been modernised and is supported by a full set of essays and primary materials to give dedicated professionals and enthusiastic amateurs alike access to everything they will want to know about points raised in the text in one volume. This revitalised new edition of Adam of Usk's chronicle will prompt the re-evaluation of an important, yet under-examined, period in English history, and as a point of departure for new perspectives, it is absolutely consequential.

Epilogue: an investigation of Adam's memorial plaque in St Mary's church, Usk.

Appendices:
1) The princess and the peace; political crisis in England 1396-1397.
2) John of Gaunt's central role in the September 1397 parliament.
3) Lancastrian mythologies.
a) Prophecies, portents and rumours.
b) The myth of the vacant throne.
c) The Lancastrian Myth.
4) The Percy problem.
5) Parallels between Adam's chronicle and two French works.
6) Adam of Usk's use of a chronicle called 'Vita Rex Ricardi II'.
7) Adam at Oxford.
8) Treason and Sedition.
9) The Thomas Mowbray v Henry Bolingbroke spat - a fateful falling out.
10) John Halle, William Serle, and Richard II's will.
11) The articles of deposition.
12) Passio Francorum, secundum Flemingos.
13) The Franco-Welsh campaign (1404-1406).
14) Helias, the pope's Jewish physician.
15) Plato's Silence.
16) The Inheritance-Tyranny fandango.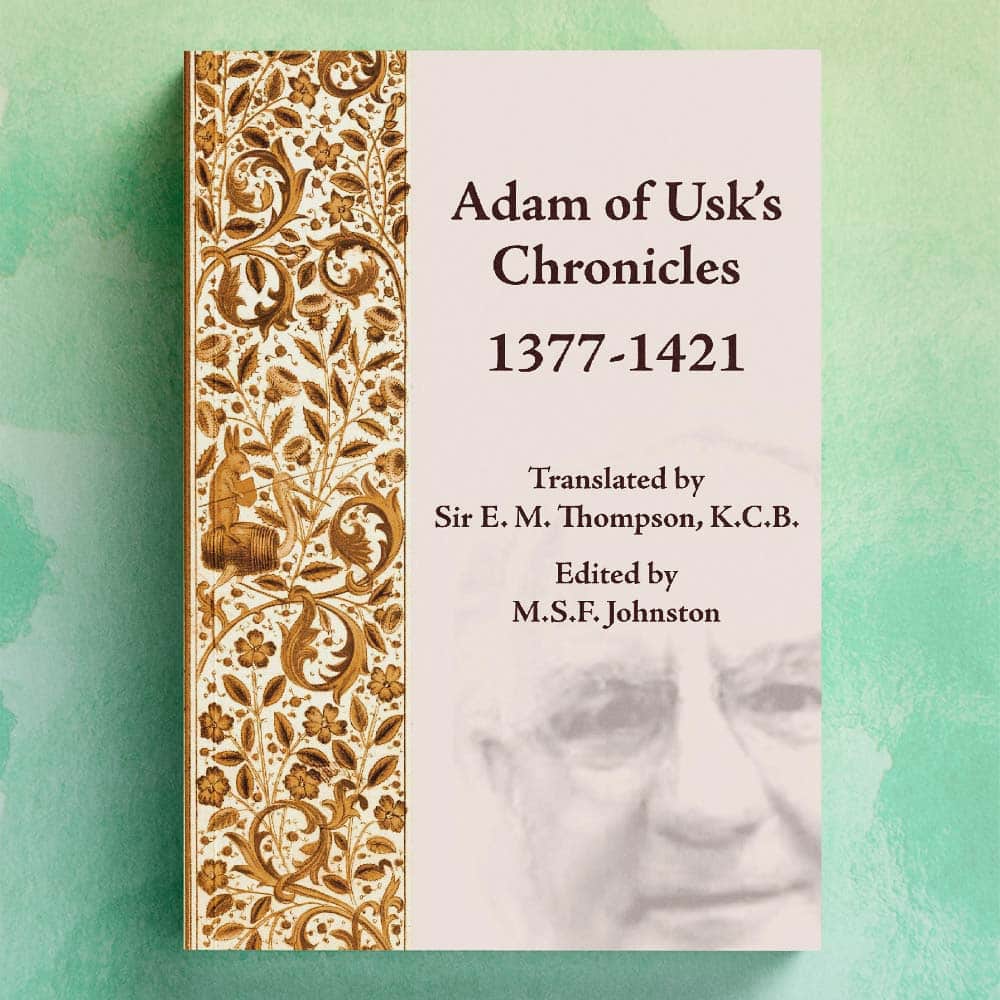 Adam of Usk's Chronicles
1377 - 1421
Purchase directly from us